Discover Australia's east coast: 10 hotspots for a unique road trip
The flight and car have been booked, the can't-wait feeling grows. Your aim: explore Australia by car. Your expectation: an eventful and memorable road trip with friends. You want to hit the road down under and experience the never-ending panorama on endless roads through uninhabited deserts and the Australian outback of the east coast.
We have compiled the top 10 destinations on Australia's east coast – from Sydney to Ayers Rock.
Sydney – the fun sports metropolis
Kick off in Sydney. The metropolis on the east coast of Australia gets you off to an exhilarating experience of the active Australian lifestyle. Enjoy the panoramic view on Harbour Bridge, the deep blue of the ocean and the dynamic Sydney skyline. Marvel at Sydney's hallmark – the Opera House – from the north shore while the sun sets over the impressive natural harbour. Or jump on the ferry that potters from bay to bay and offers a unique view of the Opera House.

Sit down at a table in one of the many restaurants and soak up the energy and vitality of this sports metropolis. Everywhere you go you'll encounter laidback Sydneysiders in the city, on the harbour, on the beach. Warning: This sporty atmosphere can be contagious. You might well be tempted to change to your sports gear and put on some running shoes, if you remembered to pack them. A run along the harbour front as the warm sun rises and bathes the city in a warm radiance can release a wonderful life's-good feeling.

You can relax on the more than 70 expansive, golden sandy beaches on the outskirts. If you're into action and adrenaline, head to the surf on Coogee Beach. Or to the world-famous surf on Bondi Beach some 10 kilometres to the east of Sydney. Don't forget Bronte Beach in the south, a must for riding the waves on your surf board.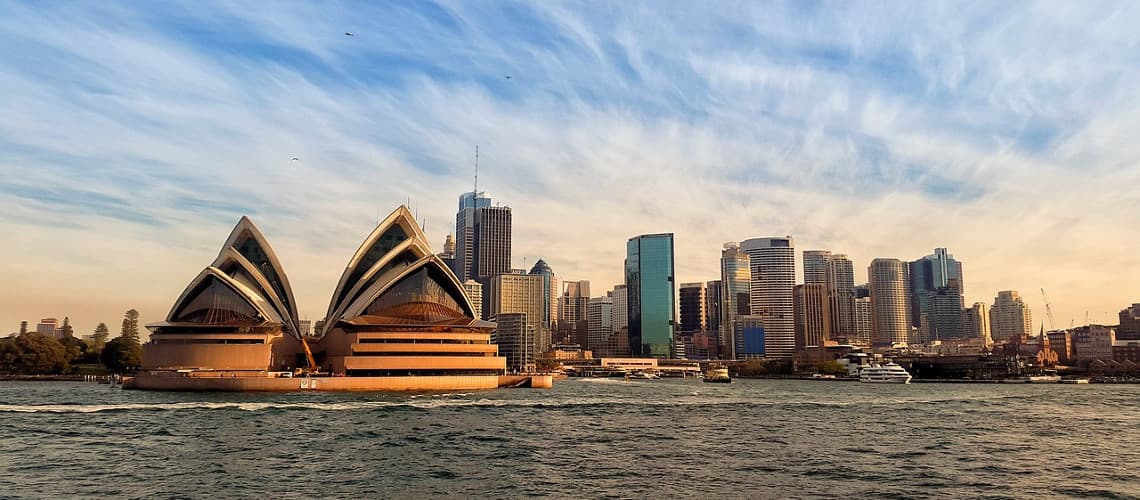 Byron Bay's Hippie side – postive alternative energy
After a few days in pulsating Sydney and its hinterland head off to the north. In your car or camper set your sights on the idyllic Byron Bay some 1200 kilometres away. Cape Byron is the most easterly spot on the Australian coastline.
You are in for a programme of contrasts. This is a great place to switch off, unwind, have time to think and simply be and enjoy. There are marvellous hiking paths directly along the beach and good prospects for spotting dolphins. No hassle, no hectic. Simply enjoy the slow rural rhythm, cosy restaurants and friendly street artists.
A must-do in Byron Bay is snorkelling with marine turtles. At dusk, when the sun is about to set, surfers, backpackers and hippies congregate on the beach. The sounds of strummed guitars, bongo and conga beats and singing create a magic ambience. Music is in the air. This signals one thing: it's party time in Byron Bay. The laidback location comes alive with dancing and partying.
Instead of driving there in a hire car, you could save time and fly to the Gold Coast – in the immediate vicinity of Byron Bay. But if you do, you'll miss the beautiful beach at Little Bay Arakoon.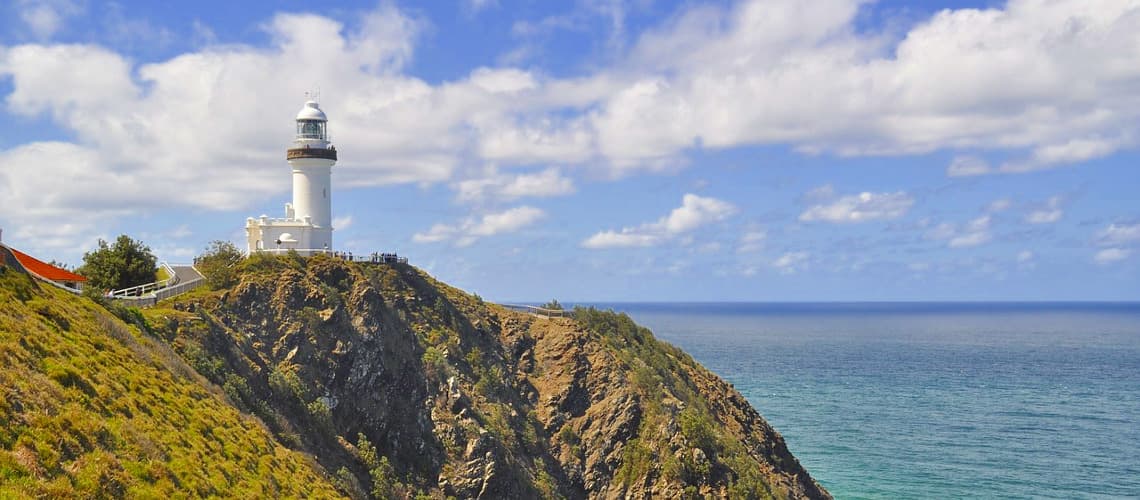 Gold Coast Queensland – modern, lively and full of adrenaline
Just some 90 kilometres further along the coast and you're in for an exciting urban experience which also happens to be a surfing mecca. The Gold Coast aka Surfers Paradise simply caters to all tastes and boasts the best conditions for the perfect wave. Look forward to some adrenaline rushes on the sensational surf.
What's more, the sixth biggest city in Australia offers recreation opportunities for all age groups. You can choose between getting an adrenaline kick in one of the many recreational parks, trying surfing for the first time on one of the dazzling sandy beaches, or hiking along the Great Walk past cascading falls and through verdant rain forest.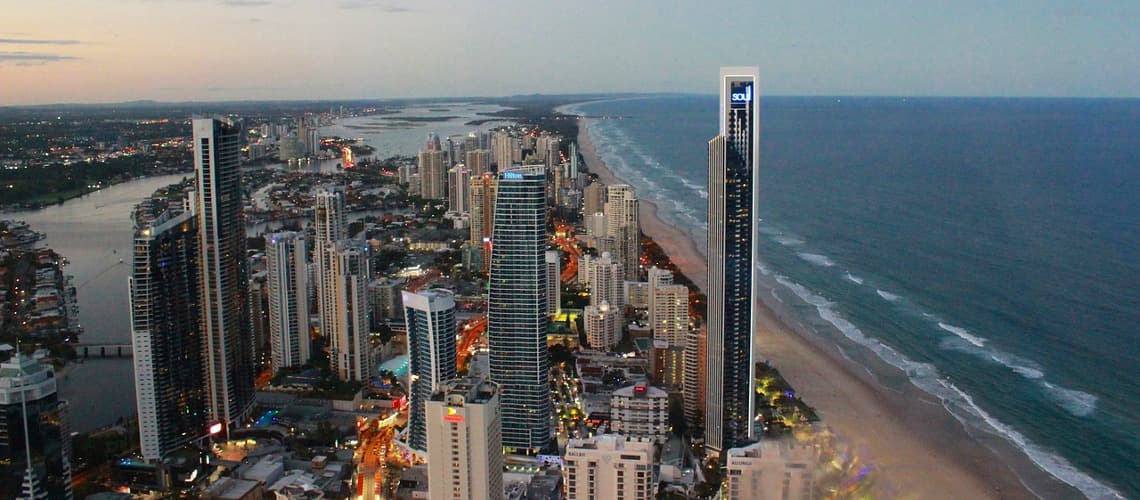 Brisbane – modern city with the record for sun hours
85 kilometres to the north awaits Brisbane with its subtropical climate. The biggest city in Queensland lies directly on the river of the same name. It spoils its inhabitants with up to 330 sunny days a year. A sure-fire sunny paradise.

How about checking out the Sunshine State from another angle? A kayak tour along the Brisbane River or a tour on a CityCat ferry are popular alternatives. If you're into shopping, dining and cheerful cacophony, try the Queen Street Mall. The city also boasts fine restaurants, tidy parks, major cultural highlights and, as everywhere in Australia, cosmopolitan inhabitants. The South Bank is a good place to relax and a favourite for young and old. A huge beach, impressive maritime view and a modern skyline, plus a marvellous park bordered by museums and the Queensland Conservatorium.

If you haven't bumped into a koala bear so far, then head to the Lone Pine Sanctuary to admire and even stroke them. This sanctuary is also home to 130 other Australian animals and only lies some 20 minutes from the city centre.

If you just need to chill out after so many new impressions and experiences, then take the ferry to North Stradbroke Island. A day-trip is out of the question, as the ferry alone takes about three hours. So factor in a few days and relax on endless beaches, crystal clear lagoons, the pleasant climate and the spectacular natural setting. In addition to simply chilling, there is a lot on offer for active adventurers: Kayaking, humpback whale and dolphin watching, 4x4 excursions or hikes through bountiful nature.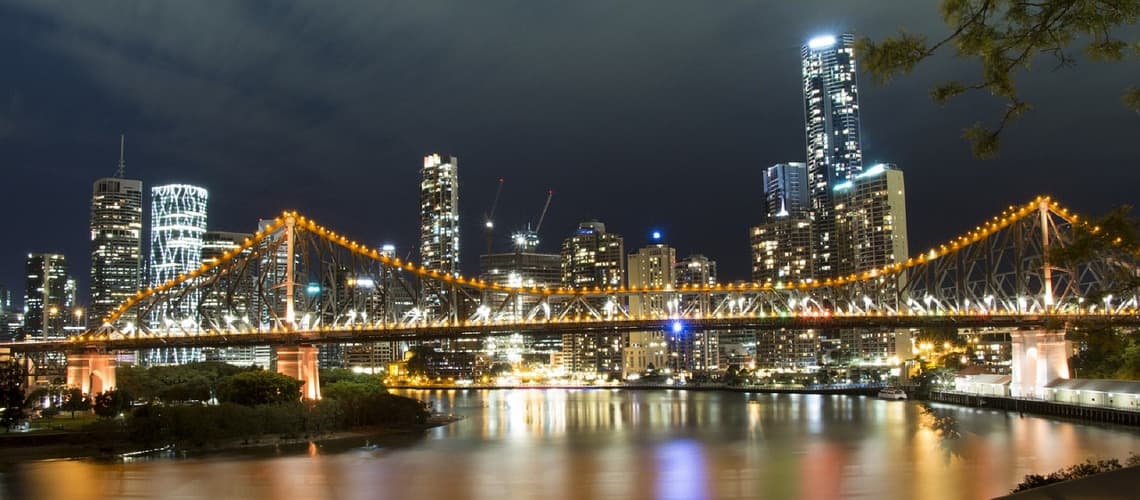 Noosa – stylish, charming and peaceful
Noosaville, some 40 kilometres to the north of Brisbane, is a place to relax, enjoy bountiful nature and a Mediterranean climate. The town is easy to get around, and spared huge building complexes. A town with exceptional charm and a favourite of older generations. Spectacular trails criss-cross the neighbouring Noosa National Park, taking you through impressive eucalyptus fields, offering unique panoramic vistas and the chance to bump into the occasional koala – nature pure and simple.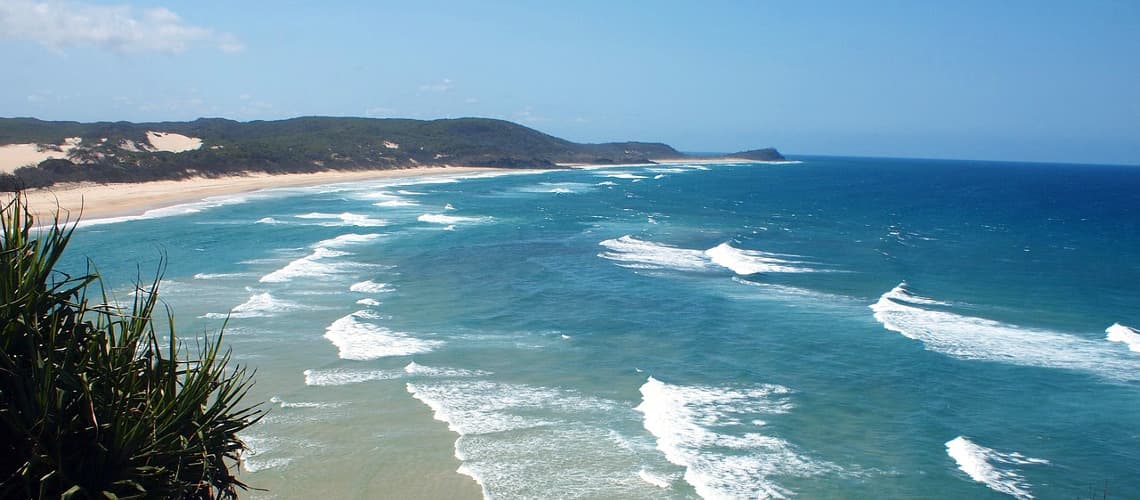 Fraser Island – a must-do for any road trip
Soft sand, crystal clear azure water, beautiful lakes and …. sand, sand sand. The largest sand island in the world is a UNESCO World Heritage Site with more rainforest than you would expect. A genuine natural paradise that takes your breath away at first sight.

You can take a boat there from Rainbow Beach or Hervey Bay. The trip from Hervey Bay also boasts whale watching from mid-June to the end of October. Whales? Acrobatic humpback whales – sometimes they even swim close to the boat. A spectacular experience you will remember for a long time to come.

If you are touring by camper, you have to check locally whether you can drive on the sand. There are no metalled roads. Only sand as far as the eye can see. Also, you need a special permit to take a vehicle to the island. Most tours on the island are booked and organised in advance from the mainland. You can take a hired 4wd (4-wheel drive vehicle) or go on an organised bus tour. Most backpackers go for an organised, self-drive trip in a convoy of 4wds. First you get instruction and some training in how to handle a 4wd in sand before heading off in a convey around the island.

With food and a map you are about to experience an unforgettable multi-day trip. If you want to explore the island on your own, you should drive with great precaution and very slowly. Don't underestimate how difficult and risky it is to drive on sand.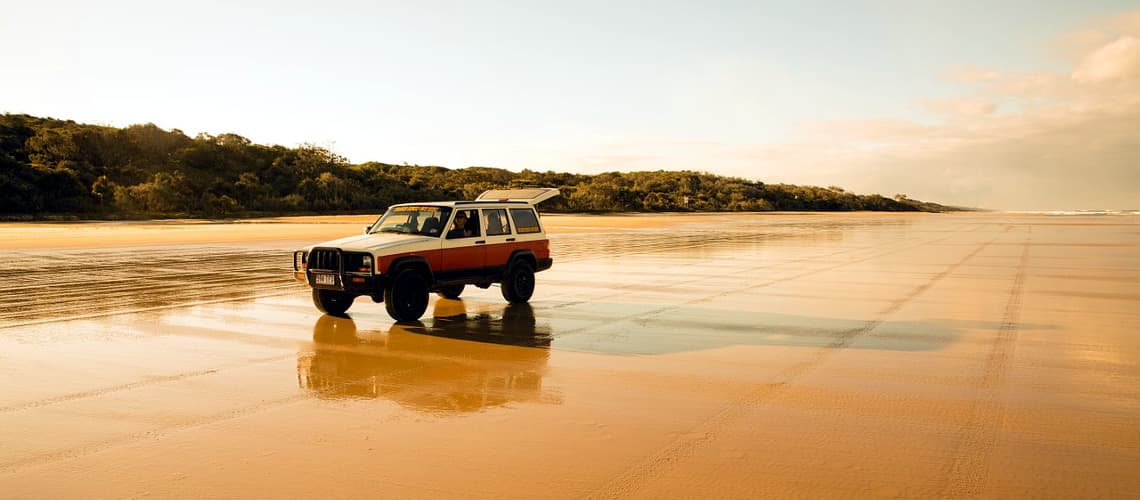 Surf lessons in Agnes Water
The east coast of Australia offers the best surf locations and countless surf schools. Calm, friendly, relaxing – that's the atmosphere in Agnes Water – a small town 250 kilometres from Hervey Bay. Above all backpackers love the picture-postcard backdrop in the middle of Queensland. If you haven't succumbed to trying your hand at surfing on your road trip so far, you will be tempted in Agnes Water to step up to the board. For instance, there is the Reef 2Beach Surf School, which, for a small sum of money, offers loads of fun, a surf board and rash guard, some theory and safety instructions as well as dry runs on the beach.
The best bit is: you can just turn up and take part in a course without any prior registration. Long live spontaneity!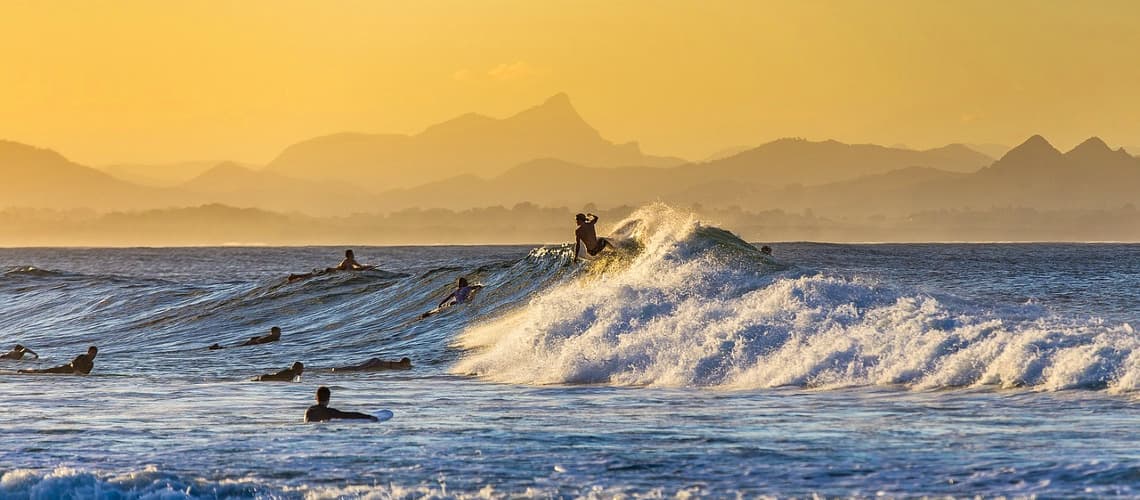 Airlie Beach – gateway to the Whitsunday Islands
After a mere 700 kilometres you reach Airlie Beach opposite the Great Barrier Reef – the largest coral reef in the world. Above all water sports fans don't want to leave again. A colourful submarine world and a whole range of water sports await you: Dive in the deep blue, snorkel along vibrant coral reefs or unfurl the sails on a sailing boat and head out to sea past the Whitsunday Islands. Make sure you bring an underwater camera to make the most of the stunning variety of underwater motifs.

But it is not just the range of activities on offer on and under the surface of the water that beckons. What about parachuting, or flying in a seaplane? Whatever you get your kicks from, make sure you have enough time to explore and experience Queensland's 2,000 kilometre-long coastline. Airlie Beach is a lively town and perfect place for getting the most out of the range of excursions on offer and boasts a mild climate throughout the year. Backpackers and independent travellers highly rate the authenticity of this coastal community, not to mention the sheer hospitality.

Our tip: Chill on the most beautiful beach in the world. We are talking about Whitehaven Beach on the Whitsundays. But be warned! From October to May you can only slip into the water wearing a wetsuit, as this is the season when the lethal box jellyfish aka sea wasp infests these waters. You can get hold of a protective wetsuit from a tour guide.
Cairns – hotspot for daredevils
It's best to fly to Airlie Beach from Queensland. The nearest airport to Airlie Beach is Townsville International Airport, some 280 kilometres away. Otherwise you can savour the 700 kilometre drive with countless beach stops at some of the most beautiful diving locations along Great Barrier Reef.

Cairns boasts an overwhelming hinterland. Now is the time to ditch your beach gear and put on warmer outdoor clothing and some sturdy shoes. Get ready for a fascinating hike through the oldest lowland rainforest in the world – the Daintree Rainforest. With any luck you might even meet a kangaroo.

Follow this up the next day with a trip to the most beautiful waterfalls in Australia: Zillie, Milla Milla and Ellinjaa Falls are must-sees on any trip to Cairns.

If you like to get an adrenaline rush, check out the adventure sports on offer in Cairns; such as Bungee jumping, parachuting, or white water rafting on Barron River. The choice is yours.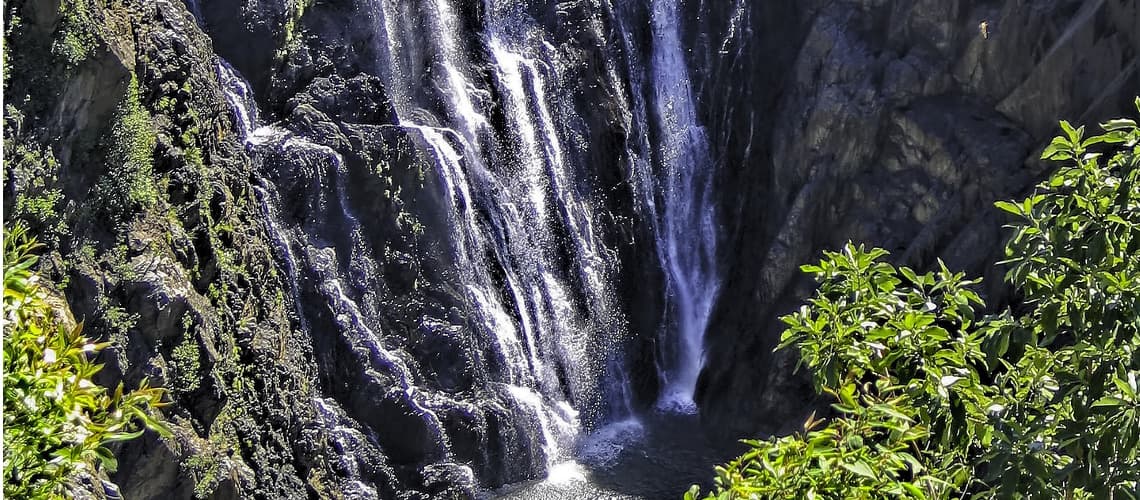 Last but not least – sunset on Ayers Rock for real
Flying back to Europe without having experienced the most iconic of all Australia's sights is simply not on. To the indigenous Australians this famous desert outcrop they call Uluru is a sacred site. The massive sandstone monolith is a spectacular natural monument.
Ideally you should buy a 2-day pass for the Uluru-Kata Tjuta National Park. On the second day make sure you experience the rising and setting sun. The colours are incredibly intensive and go through a chromatic spectrum, depending as the sun moves. To learn about the history of the indigenous Australians, it is best to go on a guided hike. In addition, be sure to include a trip to Kata Tjuta and Kings Canyon in your itinerary.