DISCOVER CUBA YOUR WAY – TIPS FOR PREPARING FOR THE ROAD TRIP
The travel has been booked. The countdown in running and the can't-wait-feeling grows. So you can really enjoy your road trip to the full, it is important to prepare well, and this includes planning an itinerary. The Caribbean island of Cuba offers authentic culture, breath-taking landscapes and on every corner you meet warm and open people with a love of life who can hardly wait to give you their take on the history of Cuba. By going on a road trip through Cuba you can customise the journey to your personal wishes and discover Cuba your way. Nevertheless, you should bear the following in mind:
Important questions before the trip – a checklist:

Is your passport valid for at least 6 months?
Have you got a valid proof of your international travel health insurance? This must be in Spanish, as otherwise you may not be allowed to enter Cuba.
How many persons will be accompanying you, and how much luggage will you all be taking? Depending on the size of your group and the planned route, you may be best advised to look for and book the right vehicle category well in advance. Interest in travelling in Cuba has grown fast over recent years and is likely to continue to grow. The demand for hire cars is increasing greatly but the capacity is not. So make sure you have booked the kind and size of car you need well ahead to avoid disappointment.
Do you possess a valid VISA credit card? You need a VISA card or MasterCard to be able to withdraw cash. Most cashpoints only accept VISA cards. American credit cards do not work.
Have you got a Cuban Tourist Card (Tarjeta del Turista)? You need one to enter the country.
Have you got two copies and printouts of all travel components and services (like flight, hotel voucher, car rental voucher, etc.)? It is advisable to carry at least 1 or 2 printout copies of all booked services and components. Digital confirmations are not always accepted.
If don't speak Spanish, do you have a Spanish dictionary? It is advisable to learn some elementary Spanish and take a pocket dictionary or suitable Spanish language app to get the most out your Cuban road trip.
Have you got a good map app installed on your smartphone? If you book with TUI CARS you are always entitled to use City-Maps-2-Go free. Make sure you have downloaded offline maps of Cuba in advance. City-Maps-2-Go also offers a good guide to Cuban sights.
TIPS FOR DRIVING IN CUBA – THINGS YOU NEED TO KNOW
Spontaneous, flexible and adventurous. This is the way to experience Cuba, the country of contrasts, in a hire car. But what do you have to consider if you want to enjoy driving on bustling roads in the company of so many classic cars?
Think about the kind of car you want to hire in good time: book your Cuba trip and you're off
To make sure you can drive the category of car of your choice you should book your hire car on line a few months in advance. Demand is huge, particularly for certain higher-range vehicle categories (e.g. mid-size, passenger van or SUV). Please note that the TUI CARS' service package on Cuba differs from the standard all-inclusive package. The following services are included for all hire cars:
Additional liability insurance cover of 7.5 million euros
Local taxes
Unlimited mileage
Smartphone map app
Hiring a car on Cuba – what costs are payable at the local rental office?
Please remember that additional fees will apply when picking up the car: Our local partner in Cuba VIA Rent-a-Car charges for a super Collision Damage Waiver: this is paid at the rental office by credit card. See the rental conditions for details. Any other add-on services or extras (like one-way rental or additional driver) must also be paid at the rental office by credit card.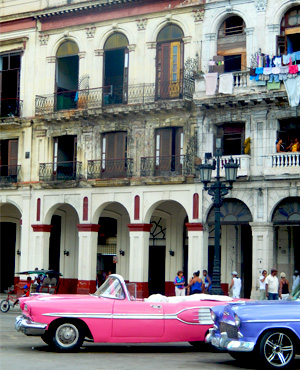 A frequently asked question before the trip is: What kind of driving licence do you need to drive a hire car in Cuba?
Basically, we recommend you possess an International Driving Permit. Often the rental conditions do not specifically point this out – but it is better to play it safe. You should also be aware that the minimum age for hiring a car is 19 – this applies to all categories except Group E (e.g. Mini van). Please make sure you take the following documents with you:
Driving licence (original)
Passport (original)
VISA card or MasterCard for the deposit and extra insurance
Rental car voucher (to be safe take two copies)
In addition, factor in some extra time and patience for doing the paperwork, as time is a different concept on Cuba. Indeed, it is good idea to borrow some Cuban serenity to enjoy your road trip to the full …. remember: you are in Cuba. But not before you have given the car some careful scrutiny: make sure any scratches or defects are documented on the pre-rental vehicle condition report sheet and that you have a copy, and check that the seat belts and brakes work, and that the car has a spare wheel. IMPORTANT: keep a copy of the rental agreement. Ready for the road trip: driving in Cuba In a hire car you can put together an itinerary that suits you and see the things you want to see. Nevertheless, you should bear the following in mind:
Ready for the road trip: driving in Cuba
In a hire car you can put together an itinerary that suits you and see the things you want to see. Nevertheless, you should bear the following in mind: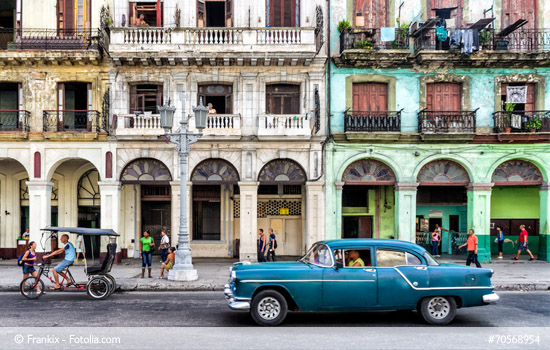 Factor in sufficient time for the route
To avoid stress and driving against the clock make sure you factor in enough time for the route you want to drive. Road conditions on Cuba vary a lot, and there are many speed restrictions. For instance, the speed limit on motorways is 100 km/h. Although motorways are in better condition than country roads, you still have to watch out for potholes. Also, a motorway on Cuba is not like a motorway in Europe. On Cuban Autopistas you can often encounter pedestrians, carts and wagons, and cyclists. The maximum speed allowed on country roads is 80 km/h and in towns it is 50 km/h. Whatever you do, make sure you comply with the prescribed speed limits. Police speed checks are frequent.

As a rule err on the side of caution and do not drive too fast, as road conditions outside larger towns are not optimal. In town centres the streets are in good condition. Even when planning shorter routes factor in sufficient time so you can enjoy the trip without driving against the clock.
Keep an eye on the fuel gauge
As tourists cannot use all petrol stations on Cuba, you should keep an eye on the fuel level indicator. It is also possible to reach a service station and find that it is out of fuel. So bear this in mind when planning routes and reckoning distances. Tourists are only allowed to fill up at the state-owned Servi-Cupet stations, where you pay with the tourist currency CUC. These stations also have Especial petrol pumps. These are clearly marked.
Don't worry – the highway code is very similar to the one you are used to, as it is based on international traffic conventions. Remember, Cubans tend not to use indicators, but prefer to stick their left arm out of the window to indicate they are turning left.
Typical Cuba: Amarillos – getting to know the country and people
You will undoubtedly often spot puntos Amarillos on the side of the road. These are places where yellow-uniformed administrators (los Amarillos) of the official Cuban hitchhiking system organise rides for locals with passing vehicles. Mostly tourist hire cars are not stopped to take passengers on board. If you speak Spanish and want to know get to know locals and gain real insider tips, you are free to offer to take passengers at the puntos amarillos.
…. at night or during strong rain storms. Many Cuban cars and trucks don't have proper lights. Moreover, animals roam the roads at night.