DOUBLE UP ON DRIVER BENEFITS
2ND DRIVER ALREADY INCLUDED IN THE PRICE
There is yet another good reason for booking your hire car through TUI CARS. Selected car rental partners working with TUI Cars do not charge extra for adding a second driver. For cars hired the inclusion of an additional driver is free in countries around the Mediterranean and other holiday destinations. This means you can share the driving and relax without having to pay surcharges at the local rental office.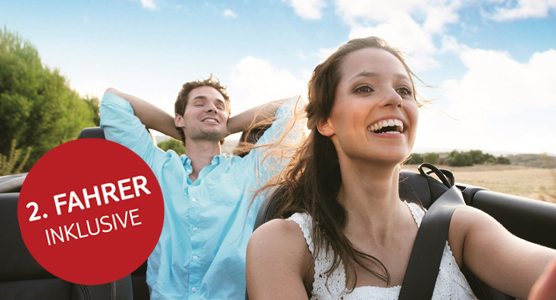 Which partners in which countries do not charge for adding an additional driver?
| country | The partners already include an additional driver in the price |
| --- | --- |
| Mainland Spain | TOP PARTNER, OK Rent a Car |
| Mallorca | TOP PARTNER, Hertz, OK Rent a Car, Interrent |
| Ibiza | TOP PARTNER, Hertz |
| Menorca | TOP PARTNER, Hertz, OK Rent a Car |
| Formentera | TOP PARTNER |
| Tunesia | TOP PARTNER* |
| Egypt | TOP PARTNER* |
| Israel | Domicar/Budget |
| Turkey | TOP PARTNER |
| Cyprus | TOP PARTNER |
| Greece | Hertz |
| Croatia | Last Minute Rent a car |
| Italy | Avis, Sixt |
| Malta | TOP PARTNER |
| France | Enterprise |
| Corsica | TOP PARTNER |
| Other Countries | |
| Austria | TOP PARTNER |
| Germany | TOP PARTNER |
| Canaries | TOP PARTNER, AutoReisen, Top Car, Avia Car |
| Madeira | Avia Car, TOP PARTNER, Sixt |
| Portugal | Guerin, TOP PARTNER, Sixt |
| Cape Verde | Mendes |
| Mexico | TOP PARTNER |
| Chile | TOP PARTNER |
| Australia | TOP PARTNER, Enterprice, Jucy |
| New Zealand | TOP PARTNER,Jucy |
| Abu Dhabi | TOP PARTNER |
| Costa Rica | TOP PARTNER |
| Great Britain | TOP PARTNER |